Cuts and scrapes are a natural part of life but what do you do if you have a more serious wound or one that won't heal? Properly addressing these types of wounds can make the difference between efficient recovery and potentially life-threatening complications.
If you have just had surgery or have suffered a serious wound; you might be referred to a wound care specialist. So how can a person tell if a wound warrants a visit with a specialist?
Let's delve deep into what a wound care specialist is, what sets them apart from other healthcare providers and how can you tell when it's time to seek specialized help for your wound.
What is a Wound Care Specialist?
Some wounds are surface-level and easy to handle on your own, while others might have you consider a doctor's visit. Although some wounds can be taken care of by your primary care doctor, more complex or non-healing wounds may need the help of a wound care specialist.
These specialists have gone through additional training in wound care and are uniquely qualified to care for acute, chronic, and non-healing wounds.
What Happens During a Visit with a Wound Care Specialist
Whether you have a new wound or a wound that just won't heal, your first visit with a wound care specialist usually begins with a diagnosis. They may ask questions regarding:
The cause of the wound

Issues that might be preventing it from healing

Medical history with wounds
They will then use the information gathered to identify the type of wound, create a customized treatment plan, and determine whether you might need additional forms of treatment. To further evaluate your progress and whether any adjustments might be needed to your care plan; your specialist may suggest scheduling follow up visits as well.
Who Should Visit a Wound Care Specialist?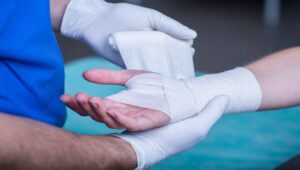 Although most serious wounds should be treated by a professional, not every wound is serious enough to be treated by a specialist. That said, certain types of wounds are better addressed through a wound care specialist or visiting a wound care center.
Infected Wounds
While some wounds might start off as a minor cut or scrape, without proper treatment it can become infected. An infected wound can be serious and require help from a specialist. That's why it's important to be able to recognize the signs of an infected wound and when to seek help. Some of the more common signs to watch out for include:
A high fever – while if your wound is after surgery a low grade fever is expected, if you're temperature is too high (i.e. over 101 degrees) you should seek help.
Increasingly red or swollen – Redness and inflammation at the wound site are common but should show improvement over time.
If the wound becomes more painful – Similarly, some pain after a serious wound is expected but it should start to subside.
If you notice pus or cloudy fluid – Cloudy, green fluid or a bad smell could be a sign of infection; particularly after surgery.
Discoloration near the wound – This could be a sign of improper blood flow to the wound and could prevent healing.
Complex Wounds
Complex wounds can be difficult to treat and because they defy conventional methods pose a challenge for health care providers. Complex wounds can be either chronic or acute and may manifest as:
An open wound that is taking longer to heal (usually longer than three months)

An infection

An ulcer with exposed bone or muscle

Sores around the lower legs
Some examples of the most common complex wounds include:
Vascular or diabetic ulcers

Infected wounds
These types of non-healing wounds often lead to infection and without advanced care can result in serious complications. If a complex wound is related to an underlying condition such as diabetes or a weakened immune system; it's important to address those through treatment as well.
Health Conditions
As referenced above, certain health conditions make it more difficult for the body to heal and are also better suited to be helped by a wound care specialist. Your medical history should also play a role in how proactive you should seek out a wound specialist. For example, if you have a previous history of non-healing wounds or chronic conditions such as:
Incontinence

Diabetes

Congestive heart failure

Vascular disease

Obesity

Renal failure

Nerve damage

Poor diet

Alcoholism or being a smoker

Extremely inactive lifestyle
Benefits of Treatment from a Wound Care Specialist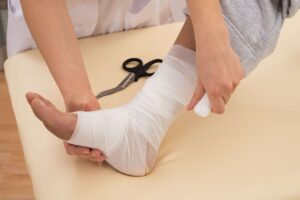 If you have experienced a serious wound, consulting with a specialist can have a range of benefits. Let's explore some of these benefits and what you can expect when seeking the help of a wound care specialist.
Reduced Risk of Complications
Wounds are nothing to mess around with. If treated incorrectly, many wounds can have dire consequences and risks. For example without proper support, non-healing wounds can easily become infected and lead to potentially life-threatening medical conditions. Additionally, conditions such as diabetic foot ulcers can result in amputations if not properly addressed.
Although these may sound terrifying, they are treatable. Working with a wound specialist is the best way to reduce risk and ensure you are receiving the treatment you need for optimal healing. Wound specialists will develop an individualized care plan customized to your unique needs and help facilitate an ideal environment for healing and recovery.
Wound Care Education
Educating patients and their families about proper wound care is perhaps one of the most important benefits of seeing a specialist. Wound care specialists will work directly with you and ensure you are equipped with the knowledge of how to care for and manage your wound as well as what lifestyle changes you should make to speed up your recovery and transition back into daily life. Their better understanding of how the body works and a holistic approach to recovery sets wound specialists apart from other healthcare options.
Individualized Approach to Treatment
Going to a general doctor can prove helpful, but a wound care specialist has the expertise to develop highly personalized care plans to address your specific circumstances and help speed up your recovery. For many patients, it can be difficult to follow a one-size-fits-all approach you might receive from a regular clinician but having an individualized plan just for you can make the process easier. And because wound care specialists base your treatment plan on your wound, medical history, and personal preferences they know what you are capable of and how to ensure you are comfortable throughout the process.
Advanced Technology and New Treatments
Wound care specialists also have access to more advanced technologies than other standard healthcare professionals. They are generally more up to date on current approaches to treatment and research in the industry; which translates to reduced healing time and a more pleasant patient experience. Some of the more advanced technologies and treatments wound care specialists have access to include:
Wound Vac Assistance: A vacuum is used to implement pressure to seal a bandage over a wound. This pulls the wound together and promotes healing, reduces swelling, and stimulates tissue growth.
Biopsies: Equipment to diagnose the cause of non-healing wounds based on small tissue samples.
Ultrasound: Although research is still ongoing, this form of therapy is thought to reduce inflammation, help with pain, and increase circulation.
Cryotherapy: Freezing the infected area can accelerate the body's healing process, renew skin and blood cells while reducing inflammation and muscle and joint tenderness.
Growth Factor Therapy: This form of therapy helps the body produce growth factors that when applied to a wound promotes the development of wound healing cells.
Convenience of Treatment
While you can receive all of the above benefits by visiting a wound care center; in some cases, it's not an option or could be difficult for patients. Fortunately, many wound care specialists will travel to where you are. That way you can receive the care and attention your wound needs from the convenience and comfort of your home.
Getting Help from a Specialist
Overall, wound care specialists take an approach that is focused on caring for wounds and improving quality of life. Not only do they take into account new medical therapies, but they are always looking for ways to reduce recovery time and improve the healing process.
At West Coast Wound and Skin Care, we combine cutting-edge technology with evidence-based medicine to provide high quality, full spectrum wound care services to patients wherever they reside. We value the whole patient's health, not just the wound, and are available to get you on the right track to recovery.
We are also open for patients at our new, state of the article Wound Care Center in Fresno where we provide the full spectrum of wound care and advanced therapies.
If you are suffering from a wound that won't heal or have a new wound you want to take care of right away, please contact us. We restore our patient's quality of life with each healed wound.